Hey, there! How can we help you today?
---
For all Pole Base resources, the secure site is your go-to spot to find tools to help you promote, make, and sell Pole Base. Also, use the secure site to learn more about new products, sales resources, and upcoming events.
Video: Quick Tips from Brutsche Concrete
In this video, Mike Wood of Brutsche Concrete Products reveals what it takes to be successful in launching the Pole Base product line! From marketing initiatives focused on stenciling the finished products to world-class service, Mike has great advice for ANY precast concrete manufacturer!
Mike talks about the benefits of stenciling Pole Base units, and the new Pole Base stencil allows you to quickly and easily spray paint your Pole Base units with the Pole Base logo, website, and phone number. This provides easy brand awareness for your customers and potential customers during transit and on-site.
These stencils fit 24" bases and are available for $149 each. Reach out to zach.tabor@polebase.com to place an order!
Pole Base Trade Show Flyer
Looking for a simple way to convince potential customers that you can help them save money on time and labor with Pole Base? Try showing them this new "Cast-in-Place vs. Precast" infographic trade show flyer!
Download the Flyer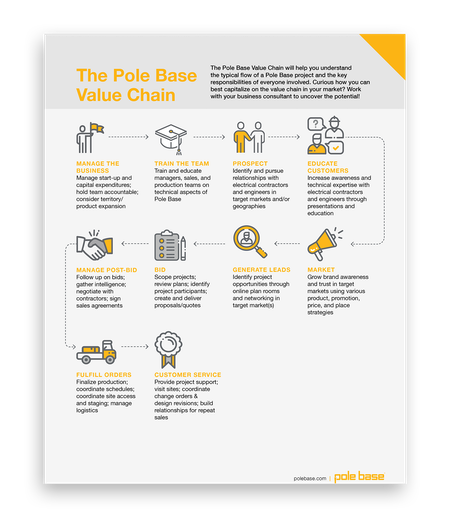 The Pole Base Value Chain
To make your Pole Base business successful, it's important to understand the Pole Base Value Chain! This infographic explains who is involved in a Pole Base project, and how you'll likely interact with them as a Pole Base manufacturer.
Download Value Chain
Email Marketing for Your Customers
Would you like to introduce new contacts to the Pole Base brand? Would you like existing contacts to continue getting information about Pole Base monthly?
Great news, that program is available to you today! All you need to do is format your contacts, tell us which program to place them on, and then we'll do the rest!
Current Pole Base Email Programs:
Electrical Contractor Drip: Sent bi-weekly, this introductory campaign is for electrical contractors unfamiliar with Pole Base. The emails educate readers about Pole Base with the goal of lead generation through form fill-outs.

Pole Base Update Emails: Usually sent out bi-monthly, these emails are for those who already know about or use Pole Base. These emails keep recipients up-to-date on the latest Pole Base news and information.
Contact Cayce Armstrong at cayce.armstrong@asterbrands.com for more info.
Download Contact Template
Lunch & Learn Presentation
This presentation is a great starting point for your Lunch & Learn meetings! It's best to personalize it with photos of your own projects, or use the Pole Base photo database!
Download the entire Lunch & Learn Presentation below! You will be directed to a Dropbox link with the file.
Download Presentation