Pole Base Production Videos
---
How to Drill Pole Base Bolt Patterns
With each base being custom for each job, different bolt patterns are required. Watch the video for simple instructions for how you can quickly drill any bolt pattern needed for your projects.
Using Pole Base Conduit Retainers
Conduit is an essential component of any Pole Base unit, which is why we made it simple to place for any Pole Base project using magnetic conduit retainers.
Tying Rebar Cages with Pole Base Rebar Jig
All Pole Base units require a rebar cage that should be 6 inches smaller than the corresponding unit diameter. Use the Pole Base rebar jig to easily tie cages for the different diameter units.
Pole Base Production Resources
---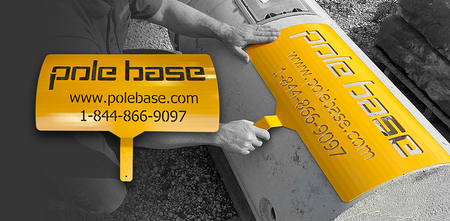 Pole Base Stencil
The new Pole Base stencil allows you to quickly and easily spray paint your Pole Base units with the Pole Base logo, website, and phone number, providing easy brand awareness for your customers and potential customers during transit and on-site.
These stencils fit 24" bases and are available for $149 each. Reach out to zach.tabor@polebase.com to place an order!
Pole Base Production Tool List
Use this list to get an overview of some required and recommended tools needed to produce Pole Base. Also, see a few of the specific resources that we have used throughout our own production process. If you have any questions, contact Casey Meadows at casey@polebase.com or 231-675-1055.
Download Tool List