Pole Base Training Materials
---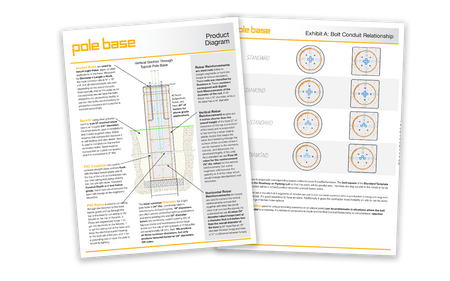 Pole Base Product Diagram
Train new Pole Base Employees with this product diagram that shows:
Overview and description of Pole Base components
Bolt-conduit relationship diagrams
Diamond template application example
Download Product Diagram
Pole Base Overview and Resources
Andy Manthei, Pole Base Business Development Rep for North America, goes over the basics of the Pole Base forming system while engineer Brian Lindfors walks you through the technical resources available.
Not-so-Secret Secrets to Pole Base Success
Business Consultant Zach Tabor guides you through the keys to selling Pole Base, including the applications for the product line, where you'll gain valuable project leads, and how to execute the sale to get the results you're after!
How to Get Pole Base Spec'd Locally
Curious what a spec even is? Then let Zach Tabor take you back to the basics about what it is, who the key players are in getting Pole Base spec'd, and why it matters. After watching, you'll know how to go about it!
Using Stencil On Precast Concrete Products (Guerrilla Marketing)
Mike Wood with Brutsche Concrete Products explains how to connect with and nurture long-term customer relationships as a Pole Base manufacturer. Brutsche's customers appreciate the value, efficiency, and consistency of Pole Base products. Learn how this manufacturer has utilized basic sales principles and a simple stenciling technique to successfully market their pole base products!
How Product Prototypes Can Help Sell Precast Concrete Products
In this video, Mike Wood with Brutsche Concrete Products describes how customer relationships are built and maintained by educating clients about the advantages of Pole Base. Mike also shares with us a simple and effective method of marketing the products.