Precast Taxiway Bases Meet DOT and FAA Regulations
---
When W.K. Kellogg Airport needed to update its taxiway lighting to meet FAA regulations, they opted for precast bases from Pole Base. Not only did the bases meet regulations, but the installation of the bases was quicker and had less impact on airport users.
THE CHALLENGE
When the Federal Aviation Administration updated the criteria regarding taxiway geometry, the taxiway lighting had to be replaced, or moved, on three of the taxiways at the W.K. Kellogg Airport, according to Jeff Thoman, Project Manager at Mead & Hunt Inc.
"The main challenge was replacing the bases while minimizing the impact on airport users," said Thoman.
The project also needed to meet all FAA and Michigan Department of Transportation Aeronautics requirements for taxiway bases.
THE SOLUTION
This project used 184 Pole Base Taxiway Bases installed by Windemuller Electric. The MDOT Aeronautics division allowed the use of precast taxiway bases because the engineering consultants and contractors on the project wanted to move forward with them.
Pole Base is an architecturally designed precast concrete foundation for outdoor site lighting, streetscapes, parking lots, and more. With multiple faces, color options, and customizable finishes, Pole Base offers an aesthetically pleasing solution that stands out in the industry. Since Pole Base is manufactured in a controlled environment to ensure top quality, installation can happen at any time, regardless of weather or site conditions.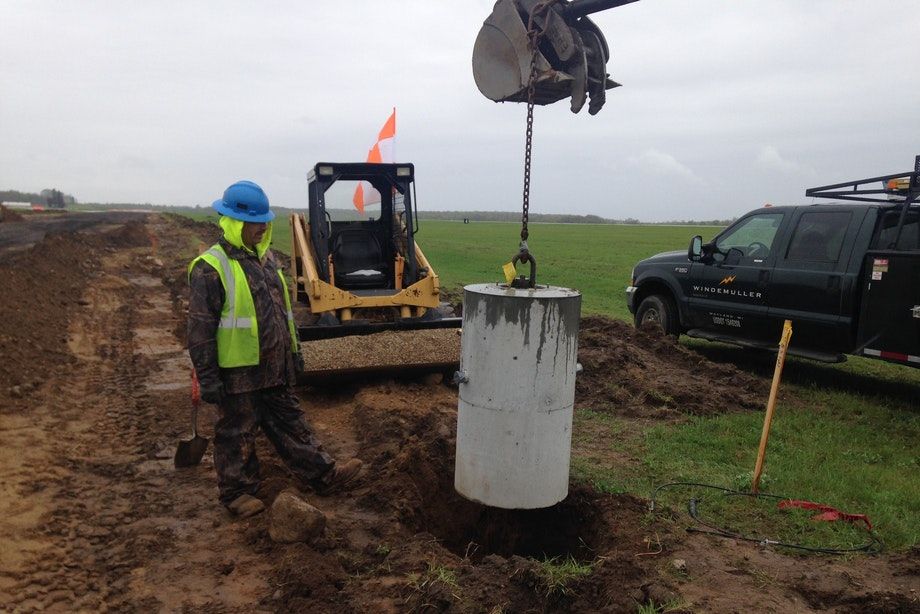 According to Andy Urquhart, Project Manager with Windemuller Electric, using Pole Base was a major advantage in the field because they were able to install the bases faster than installing a cast-in-place system.
Urquhart said they were able to over dig the hole, backfill with stone, and set the base right where they wanted it. With a cast-in-place system, there is not as much freedom with hole sizes.
"The time in the field is really cut down," and having the conduit in place and ready to go was also an advantage said Urquhart.
Because the prefabricated taxiway bases were produced to match the project's specifications, Urquhart estimated that each base took an average of 30 minutes to install. Urquhart said the installation would have taken three to six hours per base if they would have used a cast-in-place system.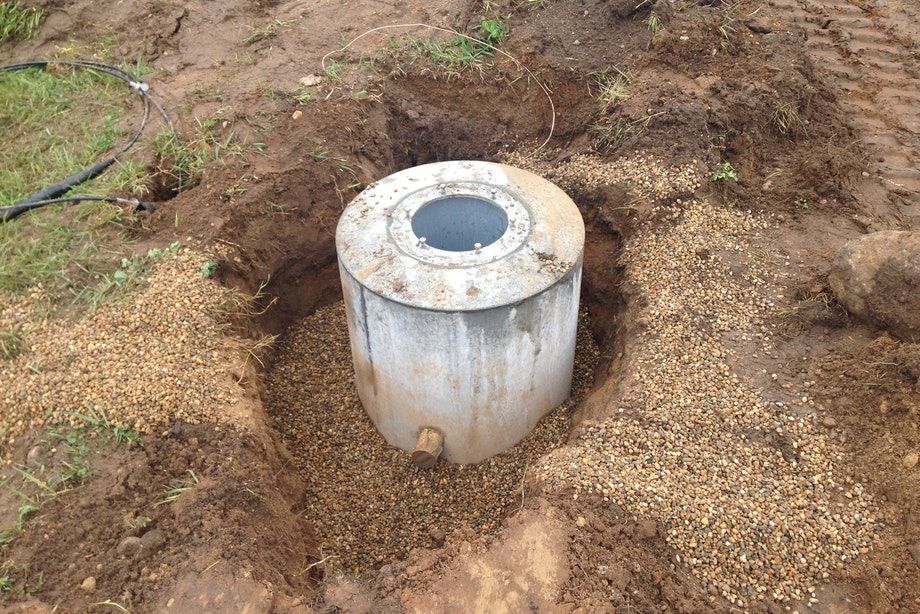 THE OUTCOME
The 24-inch (0.6-meter) diameter electric light pole bases were manufactured using architectural-grade precast concrete and designed specifically for airport runway light bases or taxiway light bases.
These bases have a 0.5-inch (12.7 millimeters) chamfer at the ground surface and are 42 inches (1.07 meters) tall. The lights are set into a galvanized L-867 electric light base that is 12 inches (304.8 millimeters) in diameter and 24 inches (0.6 meters) tall with two internal grounding lugs.
These bases have side drainage conduit built into the unit, and some of the bases also feature an integral bottom drainage system that is set into an 18-inch (0.46 meter) drainage stone foundation.
What solutions can Pole Base provide for your next project? Fill out the Where to Buy form to get in touch with your local producer!
PROJECT DETAILS
Project: W.K. Kellogg Airport Taxiway Lighting Customer: MDOT Aeronautical Division Year Built: 2014 Manufacturer: Brutsche Concrete Products Installer: Windemuller Electric Location: Battle Creek, Michigan Case: 007 - WK Kellogg Airport Taxiway Bases